The name of my business is Embellishments.
My work focuses on adding beauty to everyday accessories.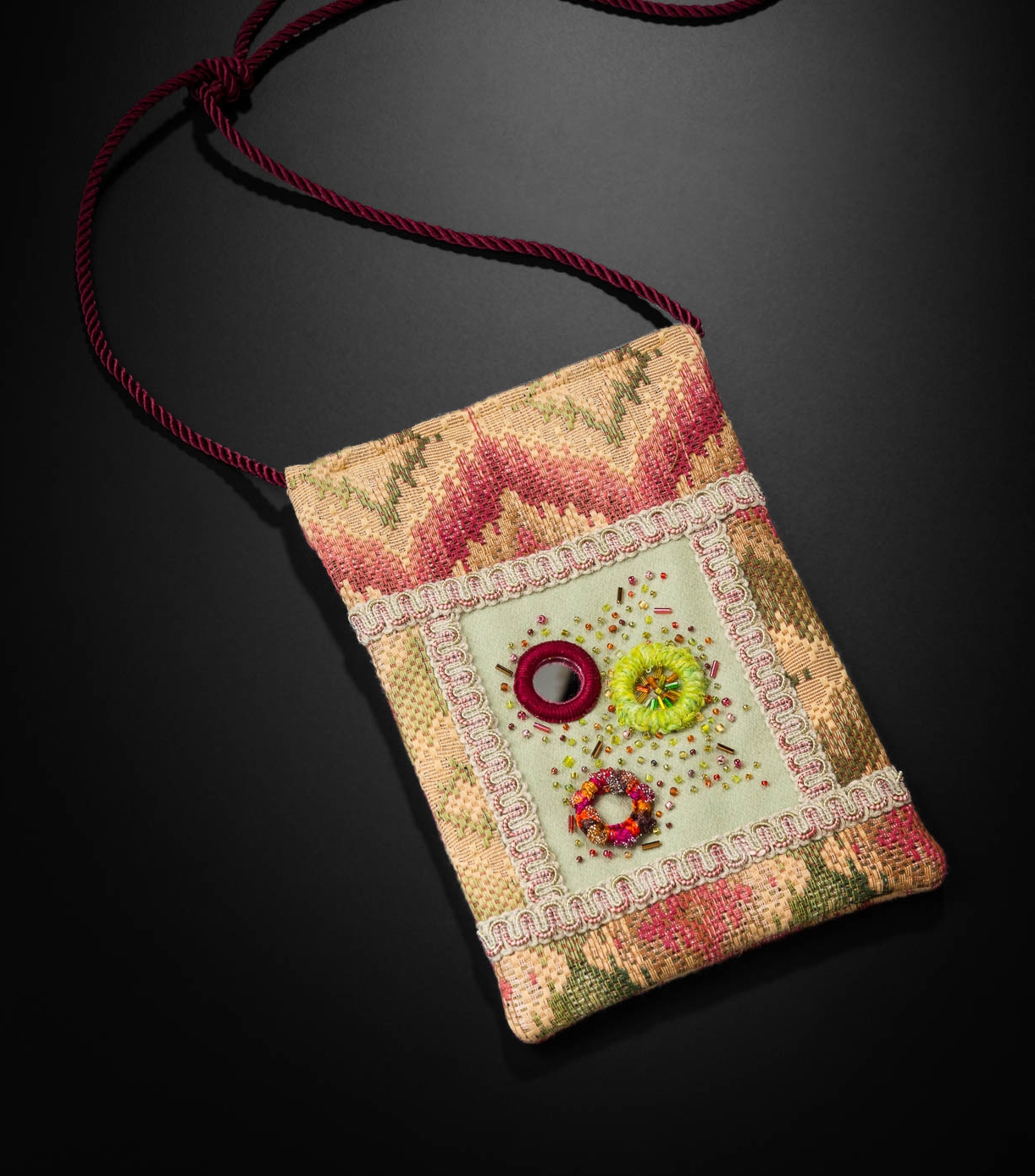 The Essentials Bag
This small, flat bag is designed to hold your travel essentials: passport, credit card, cash, phone, lipstick and a comb. With these essentials at hand, you can go anywhere and do anything.
There are a few different styles of bags constructed from patterns that I developed over my 60+ years of sewing. Each has several pockets, some internal and some external. The basic bag satisfies my need to play with beautiful fabrics of all types. I have always loved woven tapestry fabrics and Moiré satin, so they are featured in many bags.
Each bag is embellished with an original work of hand embroidery and many feature beading. The strap is long enough to wear the bag across your body for security or it can be knotted for wearing around your neck. There it functions as jewelry and purse. I have also made a few unadorned bags; these provide a bare canvas for you to add a favorite brooch, pin or your own work of art. Purses are available for purchase. Please contact info@burrowsbay.com for pricing.
Cascades of Color: Crocheted Scarves
This family of scarves began with a simple pattern worked in a single yarn. The results is a twisty-twirly scarf that is fun to wear, but didn't seem to be living up to its full potential. Even when the pattern was worked with an interesting yarn, something seemed to be missing.
I started by making a few minor changes to the pattern and major changes to the yarn. If one beautiful yarn is good, then many beautiful yarns had to be even better! Now each scarf uses from four to ten different yarns. Next, I brought elements of design into the project. It already possessed great rhythm and movement, so I added contrast (light/dark, shiny/dull, and smooth/rough) and various color schemes (analogous, complementary, tonal). The edge of most of these scarves is whimsical, fluffy yarn that satisfies my need for an amusing tactile experience. Now each scarf tells its own special story.
If you wear one of these scarves draped around your next it can fall down the front in a "cascade of color", which lengthens the torso and provides vertical interest in an outfit. Or wrap the scarf around the neck twice for a ruffled cowl effect that fills in the collar of a coat or jacket and keeps you warm on a cold day. Purses are available for purchase. Please contact info@burrowsbay.com for pricing.
Cultured Chaos: Yarn Collage Scarves
Weaving, crochet, and knitting generally result in a finished textile that is highly "organized" in the scientific sense of the word. They are structured and predictable. Patterns combine and repeat basic stitches to create a well-defined fabric. The result can be very beautiful and satisfying to look at and to handle.
For me, yarn collage is about achieving a sense of randomness and unpredictability, letting yarns and threads fall into a place without a sense of a superimposed order or predetermined outcome. In some designs I add small pieces of netting, tulle or silk which provide connections between the fibers and windows of textured color. Although machine and hand stitching provide stability for the two-dimensional structure, the resulting textile still possesses some freedom of movement. Further embellishment with beads and applique add interest and elegance.
All the while I am working on these scarves, I never know exactly how they will look at the end of the process. I find this very exciting and it holds my attention and interest through many hours of stitching.
I intended these scarves to be worn as a fashion accessory, but they could also enhance any surface and be hung on a wall or spread on a table or shelf. Purses are available for purchase. Please contact info@burrowsbay.com for pricing.